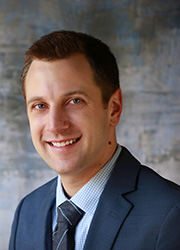 Ryan Schmidt, M.D.
Expert Evaluations for Exceptional Outcomes
A native of Appleton, WI, Dr. Ryan Schmidt is poised to bring exceptional musculoskeletal radiology training and knowledge to the Fox Cities.  His expertise ranges from emergent trauma imaging to advanced imaging of the professional athlete. His skills include a broad variety of interventional and pain management musculoskeletal procedures as well.
His special interests include:
Orthopedic and Sports Medicine imaging (CT, MRI and Ultrasound)

Joint injections for diagnosis and pain relief

Vertebroplasty and Kyphoplasty

Emergency Musculoskeletal imaging
Dr. Schmidt obtained his bachelor's degree in Biology and Zoology with distinction at University of Wisconsin-Madison. He earned his medical degree at the University of Wisconsin School of Medicine, Madison, WI and completed his internship at Gunderson Lutheran Medical Foundation. He completed his diagnostic radiology residency as well as musculoskeletal imaging and interventional fellowship at Washington University – Mallinckrodt Institute of Radiology in St. Louis, MO. He is a member of the Alpha Omega Alpha honor society, American College of Radiology, American Roentgen Ray Society and Radiological Society of North America.
Dr. Ray's practice sites include:
• ThedaCare Appleton Medical Center
• ThedaCare Shawano Medical Center
• ThedaCare Physicians Family Physicians
(North Appleton, Memorial, Midway, Kimberly)
• ThedaCare Physicians Pediatrics (Appleton North)
• Primary Care Associates
• ThedaCare Berlin Hospital
• ThedaCare Wild Rose Hospital
• Clintonville Clinic
• Shawano Clinic
• Encircle Health